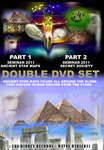 This is a unique opportunity to see my friend Wayne Herschel from Cape Town, South Africa, present his fascinating discoveries, based on over 20 years of research into pyramid civilisations and ancient star maps found all around the globe that encode human origins from the stars.

Wayne is an archeo-astronomer, a modern-day Indiana Jones, who has devoted his life to researching ancient sites and symbols, and his book, "The Hidden Records" was a life-changing read.
Filmed at a seminar in 2011, this fascinating double-DVD set sees Wayne present his incredible findings in an easy to understand way. Disc 1 covers his research into ancient star maps, and Disc 2 looks at how those star maps and their implications have been hidden and have become "forbidden knowledge" over time.

I do not normally distribute others' work from this website, nor do I normally make non-music-related products available here, but in the case of Wayne's amazing work, I have made an exception, as I feel that this information should be made known far more widely.